i shouldn't be allowed to have throw pillows in my house. i clearly don't have what it takes to keep them looking presentable. see the picture at left for exhibit A. shortly after h was born, i pieced that pillow together from a bit of
thomas paul
fabric i had on hand, recycling some old roman shades from target for the welting and the back panel. it's been little more than a year, and it already looks like its been put through the wringer, including Unidentifiable Yellow Stains, courtesy of our dogs. i shudder to think.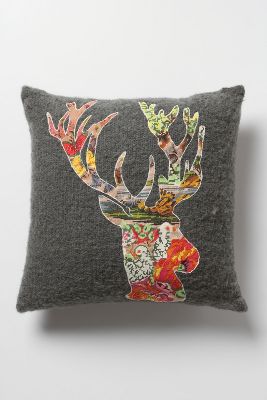 anthro's briefly available reindeer pillow
the problem is, pillows are sort of great. they're like little art pieces for your furniture, and i can't stop myself from wanting to acquire more of them. when i saw
anthropologie's blooming reindeer pillow
in their winter catalog, i started salivating. so great, right? and both seasonally appropriate and non-holiday-specific. then, as is so often the case with anthro, i looked at the price tag and my mouth went dry. actually, $88 is pretty reasonable for them, but no doubt this piece was made by small children in malaysia, or some other reindeer-unfriendly locale. and i'm not really allowed to have throw pillows.
but i know a couple of lovelies who are, and i decided to make them my own version of the pillow as christmas gifts. using jason yenter's floragraphix iv fabric, left over from one of our
love and rockets dresses
, a $3.99
granat cushion from ikea
, and a reindeer silhouette adapted from a google image search, i went to town.
this was my first experiment with hand appliqué; it's a little rustic, which was intentional, and i'm pretty happy with the results. looking forward to visiting my blooming reindeer in their new cribs next holiday season.